Outdoor Pergolas Construction
Beat the Bay Area Heat With a Pergola
California's sunshine can be brutal, and on some days, it may make you want to stay indoors and not use your patio, outdoor fireplace, or BBQ island. An outdoor pergola from Empire Pavers can help with that!
Our pergolas offer just enough shade to create well-lit, comfortable areas in your yard. The open roofs allow heavy rain and sun to enter, but the slats keep away light rains and the worst of the rays. To get a free consultation about adding a pergola to your residential or commercial property, please use our online form or call or text us today.
Combine Your Pergola With Landscape Lighting
For use at night, you can invest in strategic lighting that creates a pretty ambience. Add those twinkly lights and set up some curtains and seating with pillows, and you've created a magical space for a romantic evening. Kick back and enjoy your new retreat. You've earned it!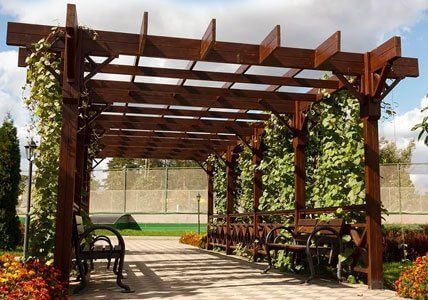 Lattice Pergolas
If you enjoy sunlight but want to avoid its full strength, a lattice pergola offers a partially covered area. Lattice pergolas are ideal for protecting planters, as they create well-lit and airy spaces.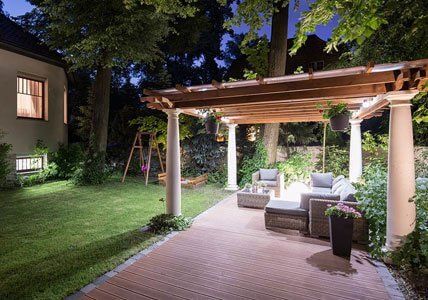 Free-Standing Pergolas
With elegance and style, a free-standing pergola will not only decorate your space but will provide an incredible sensation of freshness due to its shading. They make delightful seating areas!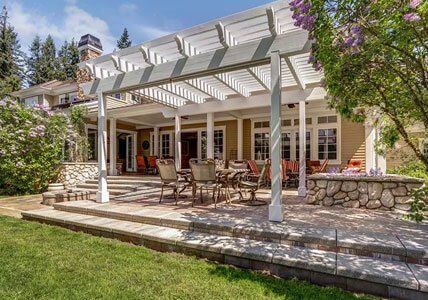 Attached Pergolas
Integrate the indoor and outdoor spaces of your home by attaching this pergola on your patio or in your backyard. Attached pergolas ensure fluidity between the two areas and are ideal for patios and porches.
Outdoor Pergola Inspiration Gallery