BBQ Island Construction Services
Take Your Cooking Outdoors
Cooking outside is a delightful experience. Whether you're grilling vegetables or making a brick oven pizza, you can't match the thrill of the sizzling food.
Empire Pavers is the name to remember for BBQ islands. Our outdoor kitchens are fully customizable. You can choose the size, features, and appliances, as well as the color and style of the building materials. We'll work with you to create a BBQ island that perfectly matches the décor of your home and landscaping. For your free consultation, please use our online form or call or text today.
BBQ Islands Create Fun Social and Family Spaces
Release your inner kitchen enthusiast with a BBQ island. Since the island is outdoors, you have plenty of space for friends and family to gather. The breezes carry away any strong smells, so you never have to worry about lingering odors in your home. The pleasure of outdoor dining is just a few steps away.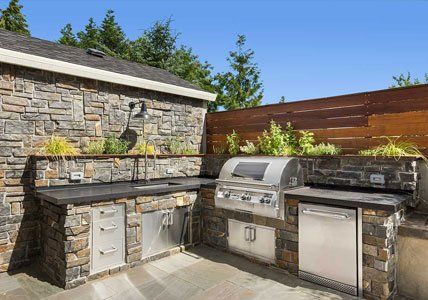 Backyard BBQ Islands
Our BBQ islands complement the design of your indoor kitchen by pulling the design aspects to the outdoor area as well. Imagine how nice a meal will be as you and your guests gather around the BBQ island.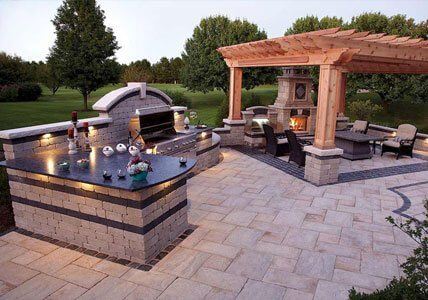 Open-Air BBQ Islands
An open-air BBQ island lets you have more contact with nature and helps you feel more relaxed. This is the ideal option if you seek to enjoy quiet moments with a beautiful view of your yard.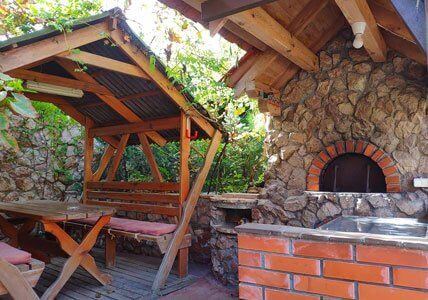 Covered BBQ Islands
Whether it's sunny or rainy, this is always a good option! When you combine your BBQ island with one of our outdoor pergolas, you get increased comfort and create a beautiful aesthetic experience.
BBQ Island Inspiration Gallery